Roman-style Stuffed Zucchini Flowers is a typical dish of the culinary tradition of the city of Rome. The batter is crispy, the filling stringy: this is the perfect recipe for a traditional Italian fried food that is impossible to resist.
The Italian name of these stuffed, deep-fried flowers is "fiori di zucca alla Romana." And you can find them in pizzerias, restaurants and takeaway shops across Rome as appetizer (antipasto), side dish, street food, midnight snack.
Roman-style Stuffed Zucchini Flowers are good for any occasion and at any time of day or night. Here's how to prepare them by following the rigorous tradition of the Italian Capital.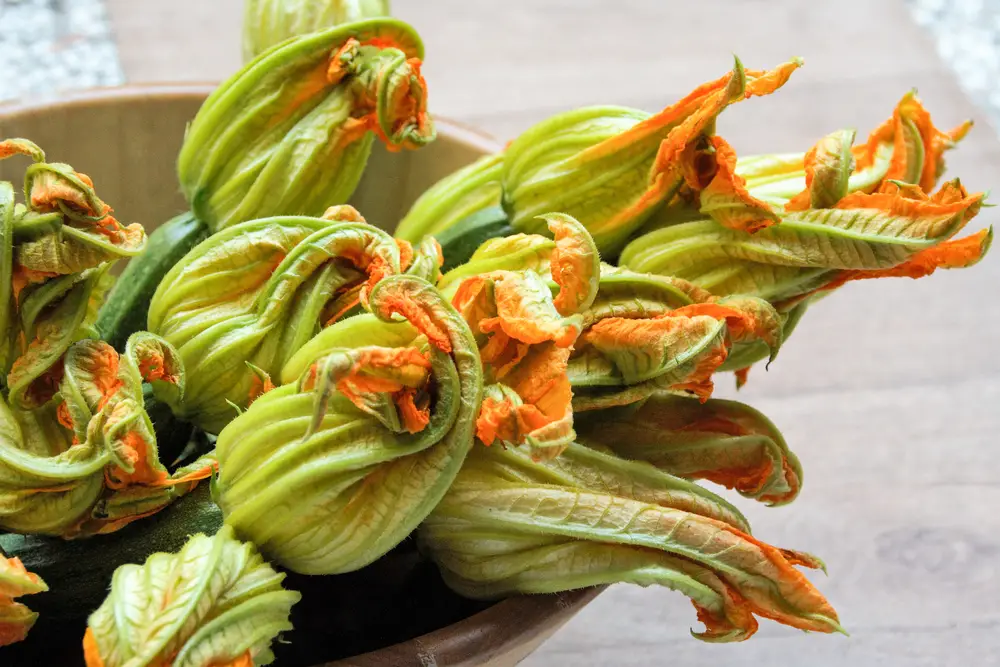 If you like the traditional Cuisine of the city of Rome, take a look also at these recipes: Pasta all'Amatriciana, Pasta alla Gricia, Spaghetti alla Carbonara, Artichokes alla Romana.
Step by step method
Step 1

First, gently clean the pumpkin flowers. Eliminate the stem and the inner pistil. Wash them under running water and drain them to remove water.

Step 2

Cut the mozzarella into strips and let it drain in a colander so that it does not leak during frying.

Step 3

Prepare a thick batter by putting in a bowl the sparkling water (must be very cold) and the flour: start with a couple of tablespoons of flour and two to three glasses of water, starting to mix with a whisk. Then add more water and flour little by little, until you reach the desired result.

Step 4

Stuff each flower with a strip of mozzarella and a little piece of anchovy, close the end, turning it on itself, and dip it in the batter.

Step 5

Fry immediately in hot oil, turning the stuffed pumpkin flowers with a Roman fork, until they are golden brown.

Step 6

Place them on the straw paper, salt lightly and consume immediately.
Tips & variations
We suggest not to keep fried pumpkin flowers in the fridge, they should be eaten immediately!

You can replace the anchovies with cooked ham if you prefer.

Eventually the zucchini flowers can also be cooked in the oven, in this case place them on a baking sheet with parchment paper and prepare a breading, so that they will keep the crispiness. In a small bowl mix grated Pecorino Romano and breadcrumbs. Now sprinkle the flowers with a drizzle of olive oil, then spread the breading with a spoon and pour a little more olive oil. Cook the pumpkin flowers in a preheated oven in the 240 ° grill mode for 7-8 minutes. When cooked, let the stuffed pumpkin flowers cool before enjoying them!