Sbriciolata alla Nutella (Nutella Crumble Pie) is a delicious cake, with a crumbly consistency but with a sweet and soft filling.
The name Sbriciolata recalls the traditional Mantuan cake, the Sbrisolona, ​​and is prepared following a similar procedure. Unlike the classic sbrisolona cake, however, the Nutella crumbled recipe is without almonds or yellow flour. To make it even more delicious, you can accompany it with fior di latte ice cream or whipped cream.
There are many variations. Sbriciolata is a delicious dessert for a hearty breakfast.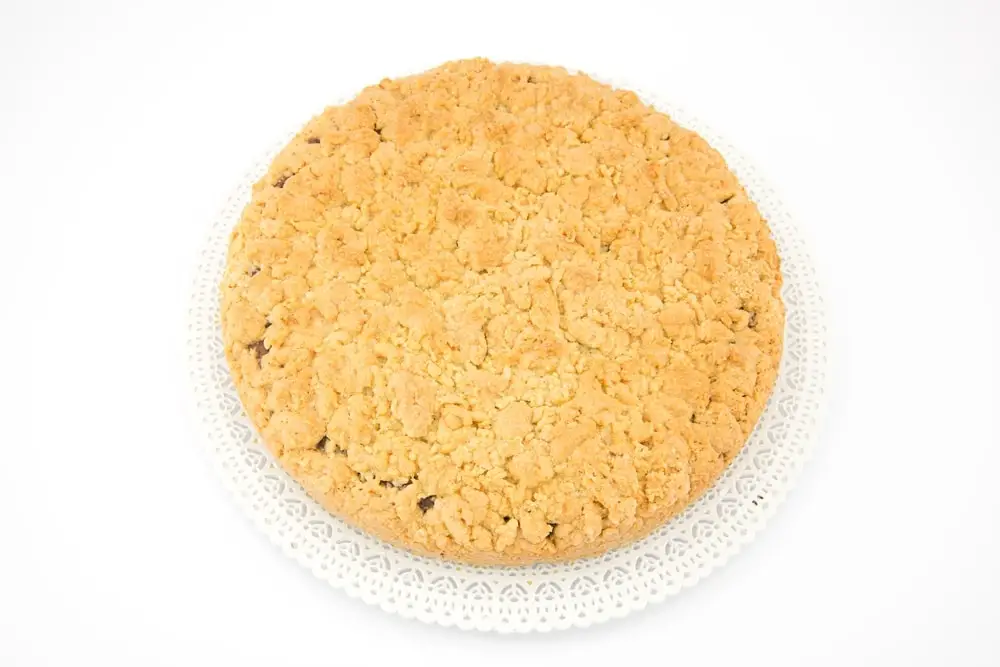 Nutrients in a portion (100g)
Step by step method
Step 1

Prepare the base of Nutella Crumble. Cut the butter into cubes and knead it quickly with the flour. Add the brown cane sugar, eggs, baking powder and mix everything with your fingertips until you get a crumbled mixture.

Step 2

Grease a baking pan about 25 cm in diameter and pour half the dough. Spread the Nutella leaving at least 1 cm from the edge and cover with the rest of the dough.

Step 3

Bake at 180 degrees for 30/40 minutes. The crumbled Nutella is delicious both warm and cold, perhaps with a scoop of ice cream next to it.
Tips & variations
You have to work the dough as little as possible, otherwise it becomes like pastry. If you make this mistake you can recover by putting the dough with a little bit of flour in a robot with the blades to crumble it.

Store the sbriciolata cake under a glass bell in a dry place or covered with film for 1-2 days, even better if in a tin container. Freezing is not recommended.

The experts and lovers of the Crumble cake, remember that this cake should not be cut absolutely, but broken with the hands, and accompanied by a sweet and fortified wine such as Malvasia, Passito di Pantelleria or Vin Santo.