Recipes Of Low-Calorie Meals With A Taste Of Italy
This is a guide to the best Italian recipes full of flavor and a healthier option for the table. All of these recipes are under 500 calories each, which means you will be able to fit them into your daily meal plan!
This list features some classic dishes, such as meatballs, lasagna, and pizza, and unique options such as zucchini packets with balsamic vinegar and thyme that are divine.
I've tried to include recipes that are as low in fat and as healthy as possible and ones that will satisfy your appetite and leave you feeling satisfied and full.
So, for a delicious Italian dinner that is both healthy and low in calories, try one of these recipes:
Top 10 Italian Recipes Under 500 Calories
1. Vegetable Lasagna – under 233 calories per serving
This is classic lasagna, using zucchini instead of noodles. It is so easy to make and still makes such a comforting comfort food. It also has many veggies like mushrooms, onions, peppers, and tomatoes! The lasagna is layered with ricotta cheese, mozzarella cheese, and parmesan cheese. The tomato sauce is homemade and so good.
2. Balsamic-Glazed Zucchini with Fresh Thyme – 50 calories per serving
This recipe is an easy low-fat option that still tastes delicious! The thyme and balsamic vinegar are a great combination of flavors. You could also top this dish with parmesan cheese for extra flavor and protein if you want to add some fat to your low-calorie meal plan!
3. Summer Vegetable Grill Packets – under 190 calories per serving
A straightforward recipe that looks beautiful on the plate, similar to a vegetable gratin. The dish looks great and tastes delicious as well. It includes parsley, green onions, bell pepper, cucumber, and mushrooms, all grilled to perfection with olive oil. The secret ingredient is Parmesan cheese for that cheesy taste that everyone loves.
4. Genoese Stuffed Zucchini – under 175 calories per serving
This is a vegetarian recipe that is so easy to make. The perfect dish to make during the summer when zucchini is in season and inexpensive! You can also use squash instead of zucchini if you would like. It tastes delicious and looks beautiful on the plate.
5. Eggplant Roll-ups – under 15 calories per serving
Another Italian classic that you can make at home in no time! It's loaded with healthy veggies like eggplant and tomatoes, cooked in olive oil and marinara sauce, adding protein to this already low-calorie meal.
6. Pumpkin Gnocchi – under 240 calories per serving
This dish is super easy to make and tastes delicious! You could top this with melted mozzarella cheese for an even richer flavor. The pumpkin gnocchi is made with pumpkin puree, ricotta cheese, egg yolks, flour, and nutmeg. A great vegetarian option!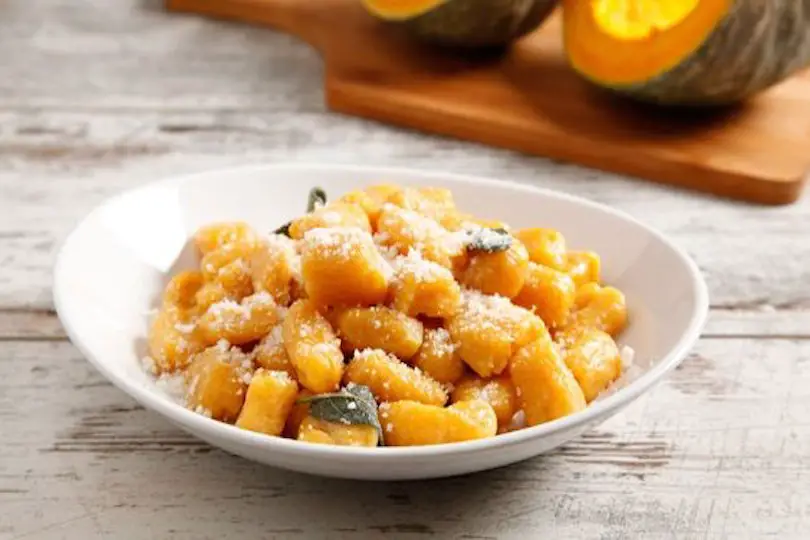 7. Baked Eggplant – under 75 calories per serving
Such a healthy, low-calorie meal option that tastes great! The recipe includes eggplant, tomatoes, and parmesan cheese, all baked together. It's so easy for a quick dinner on busy weeknights, but it's still delicious enough for special occasions.
8. Tortellini In Broth– under 200 calories per serving
A vegetarian dish, this tortellini has a rich broth base that makes it taste like something you would order at a restaurant, but without the calories. You can add low-fat cheese to this recipe if you want to add some fat without increasing the calorie count.
9. Penne All'Arrabbiata – under 240 calories per serving
A new twist on a classic pasta recipe, this Penne All'Arrabbiata is a spicy tomato sauce with shrimp. It also has garlic, chili paste, parsley, and fresh basil. The sauce is rich and full of flavor. You could also top it with parmesan cheese for extra flavor and protein if you want to add some fat to your low-calorie meal plan!
10. Orecchiette With Cime Di Rapa– under 150 calories per serving
Pasta is always a great option for a low-calorie meal. Orecchiette is so easy to make and it has such a unique flavor! The dish includes cavolo nero, or Cime di Rapa, which is a leafy green vegetable. It also includes garlic, chili pepper flakes, and anchovies in oil.
When planning your meals for these upcoming weeks, consider all of these healthy Italian dishes that have been made low in calories!
How to choose the right low-calorie meal plan?
I want to share my knowledge of how to choose the best low-calorie meal plan. The proper diet for weight loss is the most crucial aspect of your weight loss diet because you will only see the results if you follow a good diet.
On average, women should have about 1,600 calories each day in their daily diet, and men should have approximately 2,200 calories each day. There are many ways to lower calories, such as eliminating sugar or increasing activity, but this is much easier said than done. The best way to reduce your caloric intake is to make healthy choices low in calories. You can always get your favorite dishes delivered to your home because some excellent catering services offer delicious food for fewer calories.
Many weight loss plans are available online and in magazines, but try not to just jump straight into a weight loss plan. Take the time to learn more about some of the best ones first. Here you will find some of the most well-known low-calorie diet plans:
Weight Watchers: Weight Watchers is an accredited program that helps you lose weight safely and with a calorie reduction of up to 500 calories per day. This eating program can be highly effective as you can learn what foods are high and low in calories which will help you reach your goals faster.

National Diet Foundation: This program is the most tried and tested weight loss program that has been used in the United States since 1936. The National Weight Hazards Association recommends this diet plan to its members who want to lose weight as it is one of the best programs to follow so far and without significant setbacks.

Atkins Diet Plan: The Atkins diet plan is a top-rated low-calorie meal plan that has been used for many years now in hospitals worldwide due to its effectiveness, based on strict guidelines that make it easier to follow. This diet plan includes eating foods like protein, healthy fats, healthy carbs, low-carb sweets, and low-carb fruits.
Conclusion
You should remember that it isn't about cutting some type of food but eating fewer calories overall. This way, you will be able to eat slower and savor every bite while still losing weight and getting healthy at the same time.
If you take the time to learn how to calculate your daily caloric intake, then you will be able to monitor it better and see how much weight you can expect to lose. You can then choose the best low-calorie meal plan for your needs, as I have shown here! Remember, this is all just a starting point.