Pesto, History and Variants of Ligurian Sauce
Ligurian Pesto does not have roots as ancient as many other recipes of the Italian gastronomical tradition. It was in the half of the nineteenth century when we find it for the first time in the book of Giovanni Battista Ratto, a gastronome of that time, who mentions it in his work 'La Cuciniera Genovese'. The original recipe says "Take a clove of garlic, baxaicö (basil) or, failing that, marjoram and parsley, grated Dutch cheese and Parmesan cheese and mix them together with some pignoli and pound everything in a mortar with a little butter until it is reduced to a paste. Then melt it with plenty of fine oil.'
Differences and ingredients of pesto
The differences are clear from the beginning, first of all the Dutch cheese. In Genoa, it was a widespread cheese because of the trade with Holland, which exported Gouda all over Europe. The concession to the use of other herbs other than basil was due to seasonality, as greenhouse cultivation was not yet widespread. The recipe of Pesto has evolved, but the main ingredient remains the same: the quality of the ingredients. Starting from a good extra virgin olive oil to which are added Parmigiano Reggiano and Pecorino cheese. If you then ask for the exact doses, many people will answer: 'You regulate yourself, and may providence assist you! In the past, at the time of the maritime republics, the poorest people found themselves using herbs to flavor soups; this is how pesto was born, from the ingenuity of those who with little, created a masterpiece.
Legends and regional variants
There are many legends about the myth of pesto. One of them is about the monastery of Genoa Prà, where a monk, while picking this new herb, dedicated it to Saint Basil, hence the name basilico. Once he returned, he took the mortar and the few ingredients he had at his disposal and prepared the first pesto in history.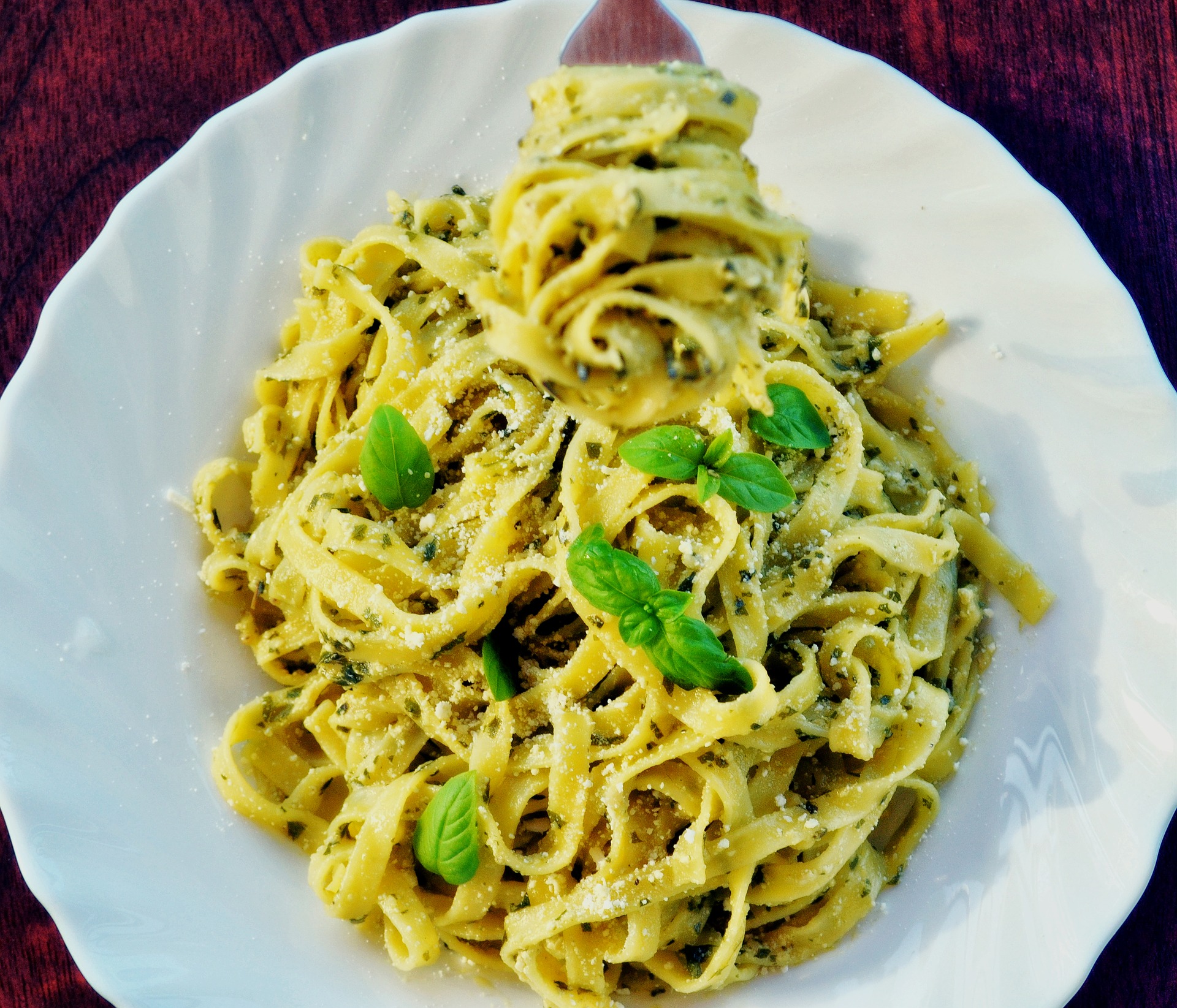 Legends apart, spread all over the country, there are many different recipes of pesto. Pesto from Trapani, for example, is made with garlic, basil, tomato and almonds. In summertime is also very popular arugula pesto, also suitable for cold dishes. Southern Italy versions also include Mediterranean style condiments, based on eggplants or peppers. The most popular at the moment is the one with pistachios, excellent with fish as well.
Whichever region you go, you find pesto, but in any case they are excellent condiments for pasta, like Trenette alla Ligure, and rice. Each jar contains the whole Italian gastronomic tradition.