6 Ways You Can Prepare And Serve A Pizza
Do you love pizza? Who doesn't, right? It's one of the most popular foods in the world. In this blog post, we will share six different ways that you can prepare and serve a pizza. Whether you're looking for an easy weeknight dinner or something to impress your friends at your next party, these recipes are sure to please.
Classic Pizza
The perfect pizza is a balance of sauce, cheese, and toppings. You can prepare a classic pizza in several ways: on a pre-made crust from the grocery store, on a homemade dough ball, or even on naan bread. You can always look for Pizza Hut deals and order a pizza online if making pizza at home is not your thing and you can serve it with a side salad or some garlic bread. The sky's the limit when it comes to toppings for your pizza. Popular choices include pepperoni, sausage, bacon, mushrooms, onions, and green peppers. However, you can get creative with your toppings and choose anything from shrimp to pineapple. There are many different types of pizza sauce available at the grocery store. Choose one that you like or make your own by mixing canned tomatoes with garlic powder, basil leaves, salt, and pepper. Once you have your ingredients, it's time to assemble your pizza. Start by spreading the sauce on the dough or naan bread. Next, add the cheese and toppings. Bake in a preheated oven at 425 degrees for 15-20 minutes or until the crust is golden brown and the cheese is melted and bubbly. Slice and serve hot!
Margherita
This pizza is typically made with mozzarella, tomatoes, and basil. The key to a good Margherita is using quality ingredients. When preparing the pizza sauce, use San Marzano tomatoes if possible. These tomatoes are grown in the volcanic soil near Naples and have a sweet and slightly tart flavor. If you can't find San Marzanos, any quality canned tomatoes will work. For the cheese, mozzarella is a must. Fresh mozzarella is best, but if you can't find it, shredded or sliced mozzarella will work as well. Be sure to avoid pre-shredded cheese, as it contains stabilizers that will make your pizza greasy. As for the basil, use fresh if possible, but dried basil will work in a pinch. When assembling the pizza, start by sprinkling a little sauce on the crust. then add the cheese and tomatoes. Top with fresh or dried basil leaves and bake in a hot oven until the crust is golden brown and the cheese is melted and bubbly.
Siciliana
Siciliana is a delicious pizza that originates from Sicily, Italy. It is made with a thin crust and topped with a variety of toppings such as tomatoes, onions, olives, and cheese. The most popular way to eat Siciliana is by folding it in half and eating it with your hands. To make the perfect Siciliana pizza, start by preheating your oven to 350 degrees Fahrenheit. Then, take a baking sheet and line it with parchment paper. Next, roll out your dough onto the baking sheet and use a fork to poke holes all over the surface. This will help the dough to cook evenly. Once the dough is ready, add your toppings of choice and bake for 15-20 minutes. When it comes to serving Siciliana pizza, there are a few different options. You can either slice it into pieces and serve it as a traditional pizza or you can cut it into strips and enjoy it as finger food. If you're looking for something a little more creative, try cutting the pizza into shapes using cookie cutters. No matter how you choose to serve Siciliana pizza, your guests are sure to enjoy it.
Quattro Formaggi
A classic Quattro Formaggi pizza is made with four different types of cheese: mozzarella, gorgonzola, Parmesan, and provolone. If you can't find all four kinds of cheese, don't worry – any combination of three will do. Just be sure to use a good quality mozzarella as it will be the most prominent flavor.
The key to a great Quattro Formaggi pizza is in the balance of the cheeses. You want a nice mix of creaminess, saltiness, and sharpness. Too much of one cheese will make the pizza overly greasy or too salty.  When it comes to toppings, less is more with this pizza. A few thinly sliced mushrooms or some wilted spinach are all you need. Too many toppings will make the pizza soggy and will overwhelm the delicate flavor of the cheeses.
Veggie
This pizza is packed with all your favorite vegetables. Try using roasted red peppers, fresh spinach, diced tomatoes, and mushrooms for a delicious and healthy pizza. Preheat the oven to 475 degrees F (245 degrees C). Grease a large baking sheet with about one tablespoon of olive oil. In a small bowl, combine garlic cloves, salt, and red pepper flakes, then set it aside. Roll pizza dough on a lightly floured board. Transfer to the prepared baking sheet. Spread garlic mixture over the dough. Sprinkle with vegetables and cheese. Bake for about 20 minutes, or until crust is golden brown and cheese is bubbly.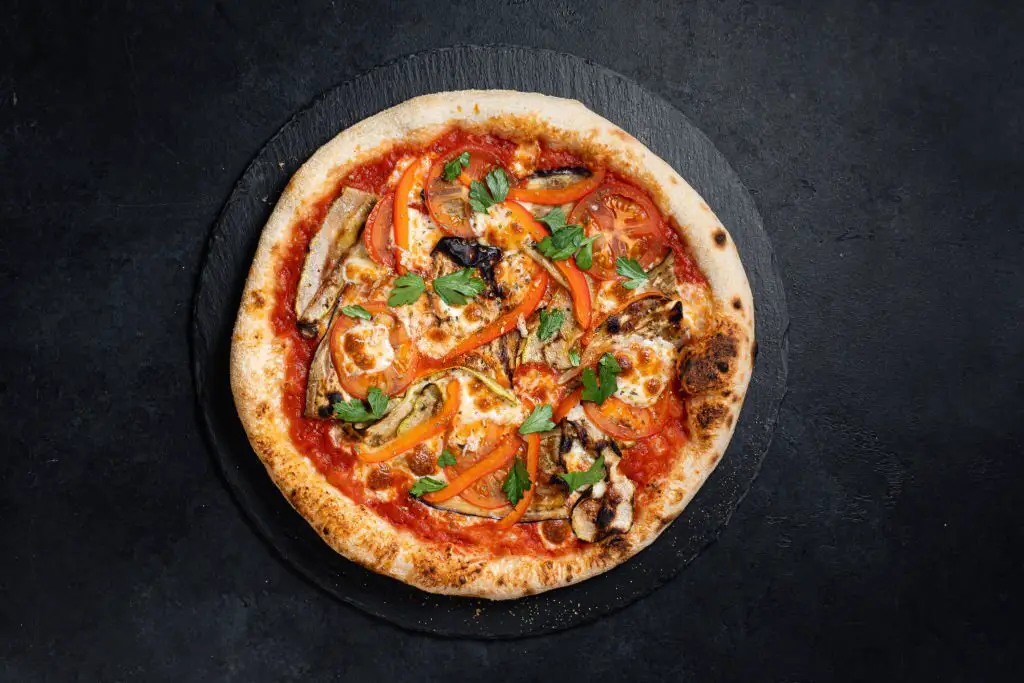 Dessert PizzA
This is a great option if you want to enjoy something sweet and savory at the same time. You can top your pizza with Nutella, marshmallows, cinnamon, and sugar for a sweet treat, or add pepperoni, sausage, and other classic pizza toppings for a savory dessert.
No matter what kind of pizza you choose to make, be sure to have all of the necessary ingredients on hand so that you can start cooking as soon as possible. And remember, practice makes perfect – so keep trying new recipes until you find the perfect one for your next party.
No matter how you choose to prepare and serve your pizza, it is sure to be a crowd-pleaser. So get creative and have some fun with it! Experiment with different toppings, sauces, and crusts, and see which combinations you like the best. And don't forget to invite your friends over for a pizza party – it's the perfect way to celebrate any occasion.