Origins And Variants Of Piadina Romagnola
Piadina Romagnola is the summer street food of Emilia Romagna par excellence. It is so deep-rooted to be recognized with the mark of Protected Geographical Indication (IGP). Mainly there are two different types of dough, but in practice, each family has its own personal recipe.
The Piadina protected by the IGP trademark, foresees strict doses and procedures, whereas the other versions offer more freedom. For example, the piadina produced in Rimini does not have yeast in the dough and it is much thinner than the classic one, a characteristic which makes it very flexible and capable of holding the condiment.
History of piadina from Romagna
Piada, as it is called by locals, is a very ancient product. It was appreciated in the past thanks to its simplicity of making and good preservation, which allowed it to be transported and consumed even during long journeys. From a rustic product as it was, today it is looked for and appreciated by everyone. It is so appreciated to have poems dedicated to it, such as, for example, the one by Italian poet Giovanni Pascoli, who praised it, defining it as the national bread of Romagna.
The Etruscans already produced this round shaped bread and they used to accompany it with cheese. In the Middle Ages, local people were forced to use poorer cereals, as the most valuable flours were subject to taxation. Over time, the unexpected success brought piadina to the forefront, so much so that today you can find the characteristic kiosks scattered around the cities of the Romagna Riviera.
Variants and curiosities
The thickness is the most important variable. If the piadina of Rimini is thin and flexible, that of Cesena is more full-bodied and thicker. The IGP mark does not pay much attention to this factor, but more to the production area which must be included in the territory of Rimini, Forlì Cesena, Ravenna and part of Bologna.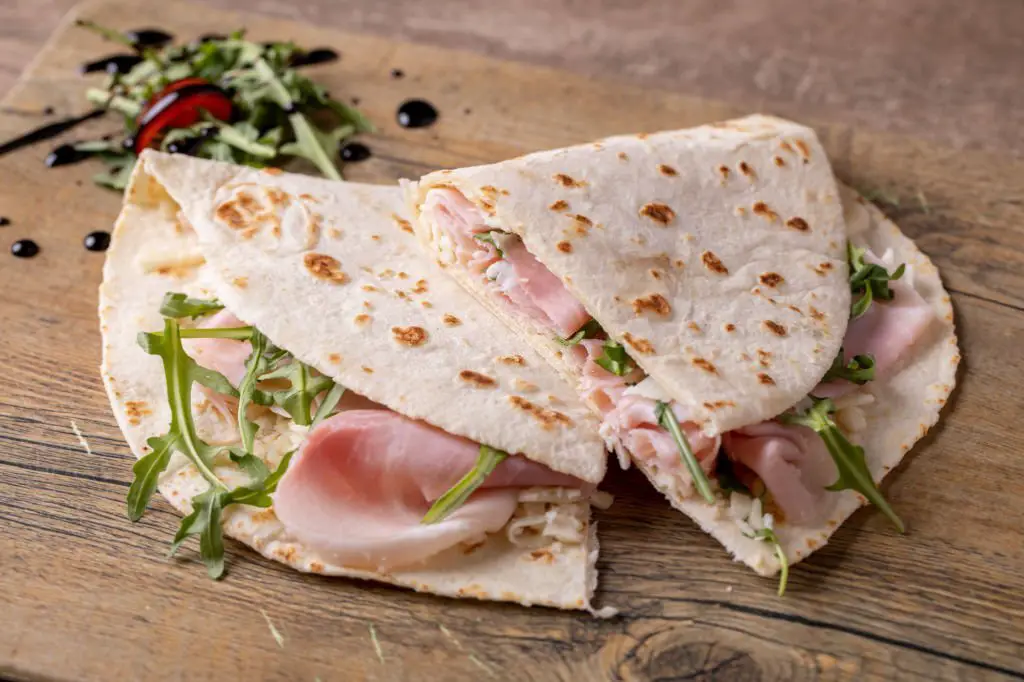 The filling leaves room for fantasy. Besides the classic ones with cold cuts and cheese, there are also sweet versions, which are cooked especially on the occasion of the feast of the Madonna del Fuoco in Forlì. Nutella, jams and creams to sweeten a traditionally salty dough.
Cassone, or crescione, is a thin piadina stuffed with spinach and cheese and then folded in a half-moon shape. Tradition also leaves room for taste with variations based on sausage, speck, mushrooms or other local products which are used to season this dough with a thousand variations.
The piadina unites, despite all its different versions, not only the inhabitants of the area, but all those who taste it, remaining fascinated and impressed. It is not by chance that piadina has been included in the list of the 10 favorite Italian products in the world.
Discover the authentic Piadina Romagnola recipe here!