Top Tasty Italian BBQ Recipes That You Should Definitely Try
Italian food is not only one of the most popular, but also one of the greatest. They are arguably most known for their pizza and pasta, but they also have some fantastic BBQ dishes, which we shall share here and intrigue your taste buds with these lovely recipes. 
Lamb Chops with Polenta and Scallion Sauce
About 2 pounds of lamb ribs or loin chops

1 ½ teaspoon of salt

½  teaspoon freshly ground black pepper

1 pound prepared polenta

½  cup olive oil

1 bunch of scallions, roots trimmed

1 jalapeño, halved lengthwise

1 cup basil leaves, finely chopped

¼  cup fresh lemon juice

3 tablespoons plain yogurt

6 cups torn leafy lettuce

1 cup cherries pitted and halved
Use 1 tsp salt and ½  tsp pepper to season lamb chops.  Preheat the grill to medium-high. On both sides, lightly brush polenta pieces with oil. Grill scallions, jalapenos, lamb chops, and polenta slices in batches if necessary until gently charred and an instant-read thermometer placed into the thickest part of the lamb registers 125°F for medium-rare, 2–3 minutes per side. It may take a few minutes longer for the onions to finish cooking; you want them to be lovely and tender before you remove them from the grill.
Chop the scallions and jalapeno finely. Place in a medium mixing basin. Whisk together the basil, lemon juice, ½  cup oil, and ½  teaspoon salt. In a large mixing basin, whisk together ¼  cup scallion sauce, yogurt, and the remaining ⅛  teaspoon salt. Toss in the lettuce and cherries with your hands until evenly coated. Distribute the salad among the dishes. Arrange the lamb and polenta next to each other, then drizzle with the leftover scallion sauce.
Italian Grilled Swordfish
You will need the following ingredients:
The swordfish

Lemons

Virgin olive oil

Herbs and seasonings

Cherry tomatoes

Salt and pepper

Red onions

Garlic

Green, yellow, and red pepper
Swordfish fillets should be cut into 1-1/2′′ square cubes.
Begin with colorful veggies, then add the swordfish.  After that, add onions and another vegetable to the mix. Continue this procedure until the skewer is all used up.
To guarantee that the contents cook equally and in the same length of time, keep each skewer uniform and balanced. Use an indoor barbecue that is either mobile; you can also go with BBQ smokers or if you have one, the grill on your stovetop. In a large frying pan, arrange the swordfish kabobs in a single layer and cook for 5 minutes on medium heat. Cook for another 5 minutes after flipping the skewers. Preheat the oven to 350 degrees Fahrenheit. Bake the fish skewers for about 10 minutes, then turn them over and bake for another 10 minutes.
Fennel Club Salad
You will need the following ingredients:
1 fennel bulb, sliced into ¼  inch thick slices

½  cup cut-in-half cherry tomatoes

1 garlic clove, coarsely chopped

a quarter cup of extra virgin olive oil

2 tbsp balsamic vinaigrette

orange juice (three tablespoons)

black pepper and salt
Preheat the grill to high. Take the fennel from the marinade and cook for 10 minutes on each side.  Combine tomatoes, garlic, oil, vinegar, orange juice, salt, and pepper in a basin to make the marinade. Wait for at least 1 hour after adding the sliced fennel to the marinade.
The fennel should be lightly browned, tender, and crunchy. Set aside for 10 minutes after plating the fennel and covering it with the remaining marinade.
Marinated Lamb Leg
½  cup extra-virgin olive oil

¼  cup fresh lemon juice

4 garlic cloves, minced

1 tablespoon dried oregano, crumbled

2 teaspoons salt

1 teaspoon black pepper

About 5 pounds of butterflied boneless leg of lamb, trimmed of fat

3 10- to 12-inch metal skewers
In a sealable plastic bag, combine the oil, lemon juice, garlic, oregano, salt, and pepper. Seal the bag after adding the lamb and pushing out the air. Turn the bag to coat the lamb, then place in a shallow baking pan and chill for at least 8 hours, turning the bag over occasionally. Allow 1 hour for the lamb to come to room temperature before grilling. Prepare the grill for direct grilling over medium-hot charcoal. Remove the lamb from the marinade and skewer it lengthwise, about 2 inches apart. Grill on a lightly oiled grill rack, until the thermometer registers 125 to 128°F, 8 to 14 minutes total for medium-rare, turning over regularly and, if necessary, moving around on the grill to avoid flare-ups. Remove the skewers from the lamb and place them on a cutting board. Allow the lamb to rest for 20 minutes, loosely wrapped with foil. Using a knife, cut slices across the grain.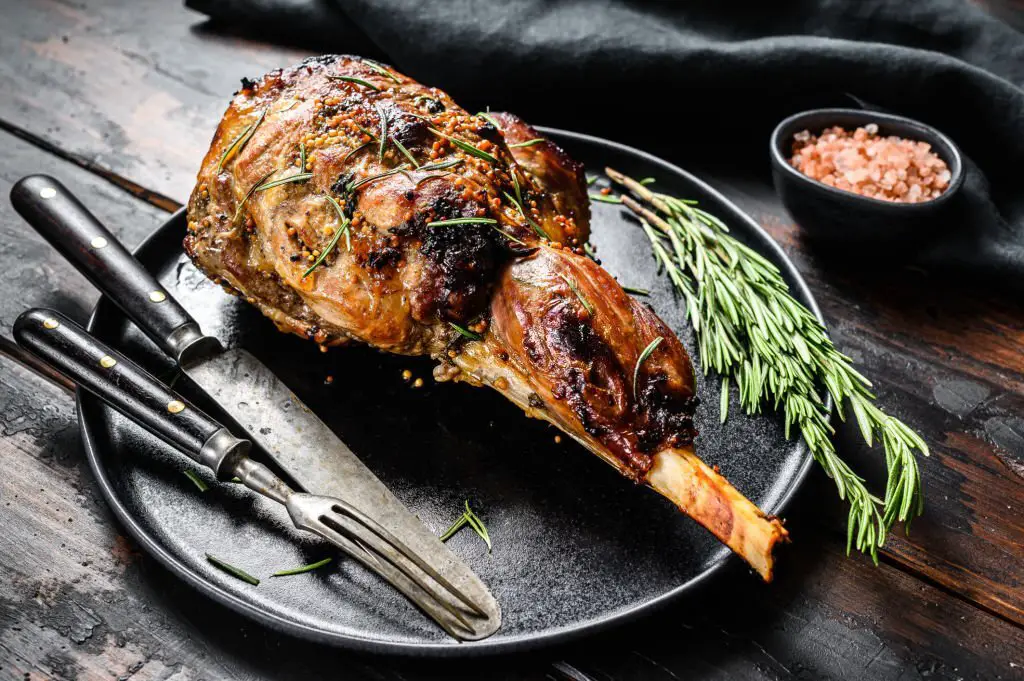 Allow yourself to be enchanted by the beauty of Italian food and try out these delicious dishes to delight your taste buds. You will not be sorry, and your personalized menu will undoubtedly include some new dishes.