11 Best Italian Pasta Dishes for Sunday Lunch
We present here the best Italian Pasta dishes for Sunday Lunch. From North to South, the most famous dishes that every family in Italy prepares for the family. Most recipes have different versions, that vary from Region to Region or even from family to family. This is due to the fact that in Italy the majority of people love to cook the meals by themselves, especially on Sundays, when they have more time. So, during the years the recipes have absorbed the natural differences, according to local ingredients and cooking habits.
TAGLIATELLE WITH BOLOGNESE RAGÙ

Tagliatelle With Ragù Bolognese
Traditional first course of Italian and Emilian Cuisine in particular, Tagliatelle with Bolognese Ragù Sauce have aristocratic and ancient origins. When the exceptional combination of Tagliatelle and Ragù officially took place, it is not certain. What is certain is the success of this first course, known and imitated all over the world and often not missing even on Christmas tables. Ragù Bolognese Sauce is quite easy to prepare and it's made of two principal simple ingredients: mixed minced meat and tomato sauce.
LASAGNA ALLA BOLOGNESE

Authentic Lasagna Bolognese
Lasagna alla Bolognese is a typical dish of Emilia Romagna region, more specifically, of the city of Bologna. Despite the authorship of this recipe is Emiliana, lasagne are so known that they become one of the symbols of Italian cuisine in the World. They have numerous and delicious variations. From the preparation to the ingredients, this recipe is the quintessence of the "richness" of the traditional Bolognese cuisine, made of fresh made pasta layers, Ragù sauce with mixed minced meat and Bechamel sauce. Obviously, Parmigiano Reggiano is spread on the top!
LINGUINE WITH SHRIMP

Shrimp Lingue Recipe
Linguine with shrimp is a classic of Italian seafood cuisine. Linguine pasta goes very well with this sauce, with a base of shrimps and cherry tomatoes; in fact it creates a mix of flavours, aromas as well as colours, making this inviting and appetizing.
It's a first course suitable for a quick lunch, when the time to cook is not much but you want to enjoy a dish very tasty. A very easy to prepare seafood dish with a rich flavour.
TORTELLINI IN BROTH

Tortellini in broth recipe
Tortellini in meat broth are a popular and traditional recipe from Emilia Romagna. They are a first course very appreciated especially in winter, when the harsh climate favors the choice of hot and steaming dishes, from soups to broths.
As all traditional recipes, each family has its own recipe for Tortellini in broth, handed down from generation to generation. At the base of the filling there is always raw ham, mortadella, pork loin and Parmigiano Reggiano, in combinations and proportions that remain a secret.
Certainly, what is fundamental for the success of homemade tortellini are high quality raw materials, both for the filling and for the broth that must strictly be broth of mixed meat or capon.
PASTA 'NCASCIATA

Pasta 'Ncasciata Recipe
Pasta 'Ncasciata or Pasta Incaciata is a Sicilian baked pasta. One of the most famous is the recipe from Messina, is one of the many versions of this unique dish that, with more or less sensitive differences between the ingredients, is widespread throughout the Island.
The eggplants are the undisputed protagonists of the Pasta 'Ncasciata, which must be strictly fried, and the Caciocavallo. Hard-boiled eggs and cooked ham or salami or mortadella diced, complete the work.
RICOTTA AND SPINACH RAVIOLI

Ricotta and Spinach Raviol Recipei
Ricotta and Spinach Ravioli (Ravioli Ricotta e Spinaci) are a fresh homemade pasta, filled with ricotta cheese and spinach, seasoned with melted butter and flavored with fresh sage leaves. This dish is a great classic of Italian cuisine. In effect they are widespread in many regions, with small variations on preparation and closure. For a great success it's recommended to use fresh spinach and a good quality of ricotta.
BAKED PASTA WITH EGGPLANTS

Baked Pasta With Eggplants
Baked Pasta with Eggplant and Mozzarella is a classic first course of the Italian Cuisine, that is prepared on Sunday or on holidays, especially in summer to take to the beach or for a picnic.
With many fried eggplants, stringy mozzarella and tomato sauce is a vegetarian recipe, which never tires. It's very crunchy because the top is covered with grated Parmiggiano Reggiano, which combined with tomato sauce is going to "burn" a bit in the grill of the oven.
ORECCHIETTE CON CIPE DI RAPA

Orecchiette Cime Rapa Recipe
The Orecchiette con le Cime di Rapa (Orecchiette Pasta with Turnip Tops – Broccoli Rabe) are one of the most representative dishes of Apulia, especially in the province of Bari. The secret of this dish lies in the optimal cooking of vegetables with pasta, the experience and knowledge of raw materials allow to obtain a perfect dish.
Respecting tradition, the Orecchiette pasta made from durum wheat are cooked in boiling water together with turnip tops, to better absorb the aromas, stirred with a tasty anchovy sauce, made with anchovies underneath oil and perfumed with a clove of garlic. Finally topped with toasted breadcrumbs.
MILANESE RISOTTO

Risotto Milanese Authentic Italian Recipe
The Milanese Risotto (Risotto alla Milanese) is the king of  culinary tradition of the city of Milan, together with Veal Milanese (Cotoletta alla Milanese). It's a very old recipe, probably more than 400 years old. The tale tellsthat while an artist was preparing the dye to color the window glass of the cathedral (Il Duomo di Milano), his apprentice, by accident, poured some saffron powder into the near by pan of rice.
This first course, in its essentiality, enhances the aromatic qualities of saffron at its best but not only, thanks to the strong coloring power, the rice grains are embellished with a pleasant and captivating gold color which makes this dish so special.
SPAGHETTI ALLA CARBONARA

Spaghetti alla Carbonara
The first Carbonara seems to have been made in Rome in 1944. The most reliable story tells the meeting between the ingredients available to American soldiers and the imagination of a Roman cook. The result was the prototype of Spaghetti alla Carbonara: eggs, bacon (later turned into guanciale) and cheese.
As the time passed the recipe has evolved to what we all know today, in trattorias as well as in the starred restaurants of the Capital, throughout Italy and abroad.
The Carbonara dressing is prepared in a matter of minutes. Just think that you need only spicy cheek lard cut into strips, a golden cream made with egg yolks and lots of Pecorino grated at the moment.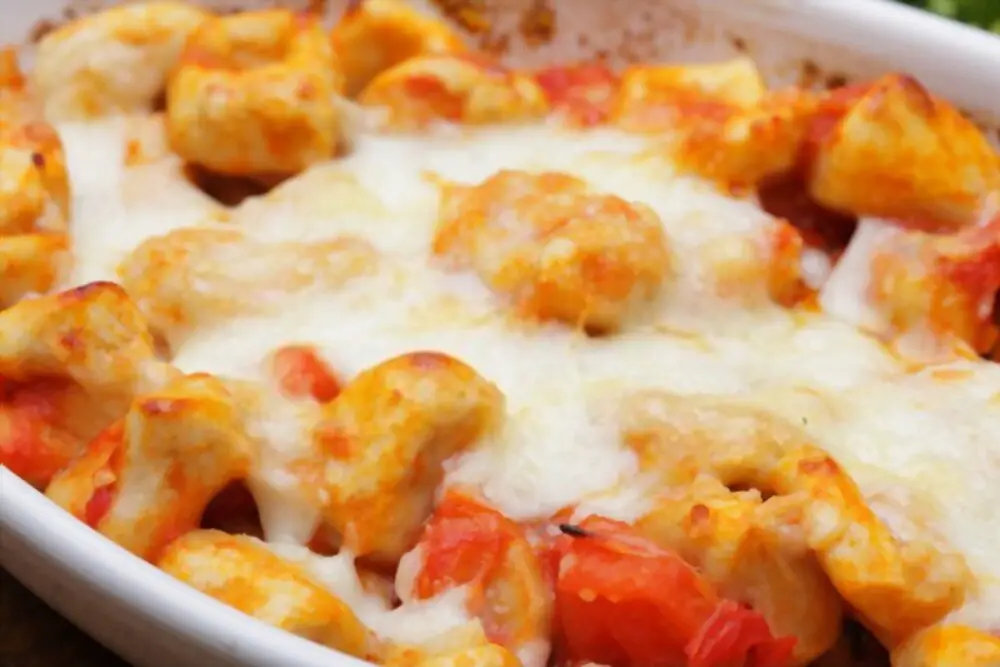 The Gnocchi alla Sorrentina (Sorrento Style Gnocchi) are a classic dish of the Campania region tradition, a must for Sunday lunch and a dish that everyone likes, adults and children. What makes this dish of gnocchi so loved is its simplicity: Mediterranean flavors and genuineness mixed with easy preparation. The dish consists of potato gnocchi seasoned with a fresh tomato sauce, flavored with basil and buffalo mozzarella cheese.